Recent Shows:
Sat. February 15, 2020— buy tix
Sun., February. 16, 2020— buy tix
at the Kuumbwa Jazz Center
320-2 Cedar St, Santa Cruz, CA 95060
Santa Cruz CA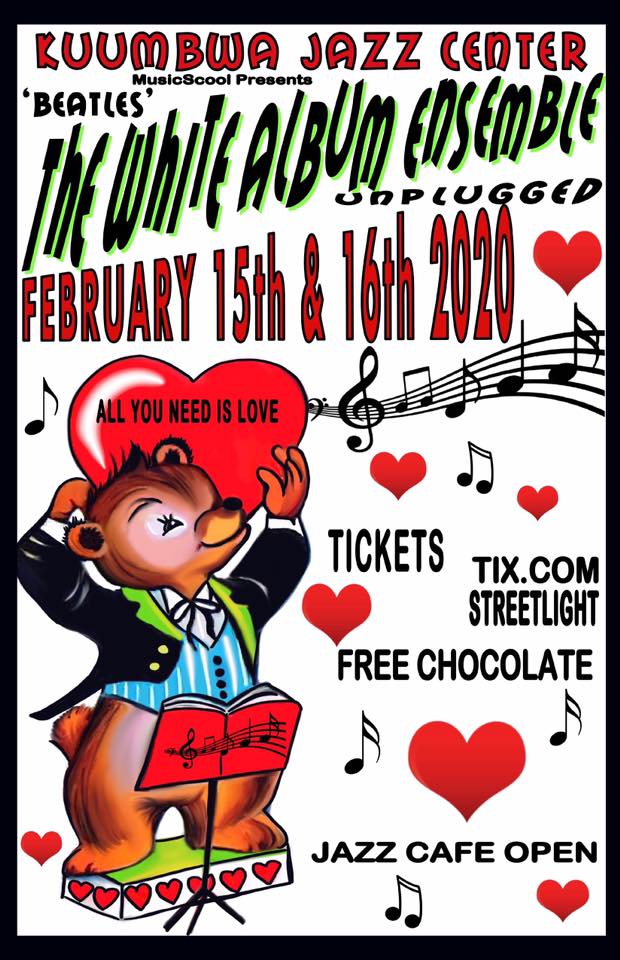 Happy Valentine's Day from the WAE!

The WAE announce our traditional "UNPLUGGED" Valentines' day weekend concerts, again,
at Kuumbwa Jazz Center, Saturday, and Sunday, Feb 15, and 16.

Shows at 8 pm, doors at 7:30

As this is a quieter, more intimate environment, we keep the volume down and focus on the prettier tunes, ballads and fun stuff, with acoustic guitars, and the lovely Yamaha grand piano thats been played by so many legends.

The WAE (Richard Bryant, Ken Kraft, Stephen Krilanovich, Dale Ockerman, Omar Spence, Endre Tarczy, special guest Paul Revelli on drums) looks forward to seeing your lovely faces, sharing some wine, free chocolate, food from the jazz cafe and Beatles music played on real acoustic instruments (lightly amplified)!

We start at 8:00 each night, tickets are online at our own tix.com page and physical tickets will be available soon at Streetlight Records, (south) Pacific Ave, Santa Cruz. General admission is 153 seats with good stage view, "Preferred" General admission is 43 of the first few front center rows, with tables.

These events usually sell out, with fans planning and driving from out of state, to enjoy the warm glow of excellent music played with expertise, this is the 17th year of the White Album Ensemble!

See you there- All You Need Is Love
And don't forget to 'like" us on Facebook!