Upcoming Shows:

Happy New Year, friends of The White Album Ensemble!
We welcome in 2019 with a memory of a great set of December dates, doing the White Album, Let It Be, and "Players Choice" having our friends the Beggar Kings, with special guests from Steely Dan Guitarist Drew Zingg, to certified rockstar James Durbin made boffo shows.

This Year, we do our traditional UNPLUGGED Valentine's Day Weekend concerts at Kuumbwa Jazz Center:
Kuumbwa Jazz Center, Santa Cruz CA
As this is quieter, more intimate, we keep the volume down and focus on the prettier tunes, ballads and fun stuff.
We welcome ace percussionist Jim Greiner, whose drum circles, LP endorsement, world travels and all around great player on the congas, and hand percussion. The WAE, Richard Bryant, Ken Kraft, Stephen Krilanovich, Dale Ockerman, Omar Spence, and Endre Tarczy looks forward to seeing your lovely faces, sharing some wine, chocolate, and tunes! We start at 8:00 each night.

Tickets are now avalable online at tix.com, and physical tickets will be available soon at
Streetlight Records on Pacific Ave in Santa Cruz.

See you there~ Peace and Love!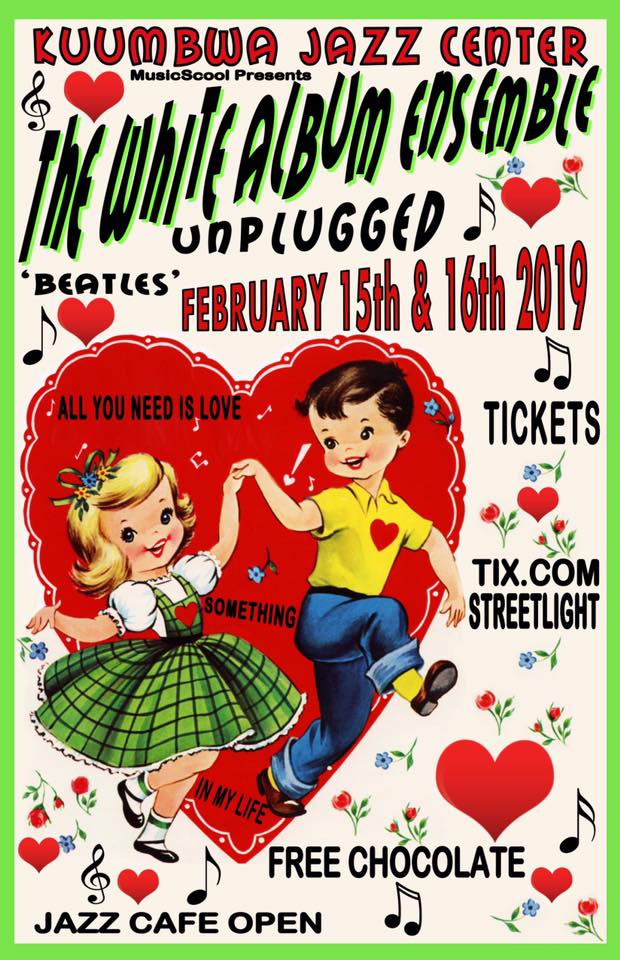 And don't forget to 'like" us on Facebook!